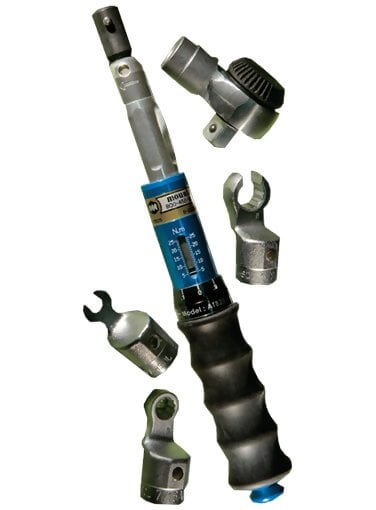 ---
Torque Ranges: 25 ozf.in - 50 lbf.in
---
"Breaks-over" when preset torque is reached eliminating overtorquing.
---
The Mountz Gedore ATB Adjustable Break-Over Torque Wrench suitable for a variety of applications across multiple industries from aviation maintenance to general repair tasks. The wrench has the ability to change head configurations like open end, box, flare or a ratchet head. At the set torque, the handle moves through an angle of 20 before resetting.
Adjustable torque wrench that breaks over upon reaching preset torque and resets automatically.
Easy-to-read single scale models protected by a display window. Graduation collar on the torque handle.
Extenally adjustable tool that offers different setting options for applications that require more than one torque value.
The "positive" locking system securely prevents incidental torque adjustment.
Compact and well balanced. Ideal for use in restricted areas.
Interchangeable Heads for all models are available.
| | | | | | | |
| --- | --- | --- | --- | --- | --- | --- |
| Model | Item # | Range | Res. | Drive | Length | Weight |
| ATB2.5 | 020658 | 50 - 250 cN.m | 1.25 cN.m | 8mm Spigot | 7 1/2" (190mm) | 8.5 oz (240 g) |
| ATB2.5i | 020659 | 4.5 -22.5 lbf.in | 0.1 lbf.in | 8mm Spigot | 7 1/2" (190mm) | 8.5 oz (240 g) |
| ATB5 | 020628 | 1 - 5 N.m | 0.025 N.m | 8mm Spigot | 8 2/3" (220mm) | 10.2 oz (290 g) |
| ATB5i | 020629 | 10 - 45 lbf.in | 0.25 lbf.in | 8mm Spigot | 8 2/3" (220mm) | 10.2 oz (290 g) |
| ATB10 | 020620 | 2 - 10 N.m | 1 N.m | 8mm Spigot | 8 2/3" (220mm) | 10.6 oz (300 g) |
| ATB10i | 020622 | 20 - 90 lbf.in | 0.5 lbf.in | 8mm Spigot | 8 2/3" (220mm) | 10.6 oz (300 g) |
| | |
| --- | --- |
| Open End | |
| | | | | | |
| --- | --- | --- | --- | --- | --- |
| American: | Size | Cap. | Model | Size | Cap. |
| 023003 | 5/32" | 10 N.m | 023011 | 9/16" | 10 N.m |
| 023004 | 3/16" | 10 N.m | 023012 | 5/8" | 10 N.m |
| 023005 | 7/32" | 10 N.m | 023013 | 11/16" | 10 N.m |
| 023006 | 1/4" | 10 N.m | 023014 | 3/4" | 10 N.m |
| 023007 | 5/16" | 10 N.m | 023015 | 13/16" | 10 N.m |
| 023008 | 3/8" | 10 N.m | 023016 | 7/8" | 10 N.m |
| 023009 | 7/16" | 10 N.m | 023017 | 15/16" | 10 N.m |
| 023010 | 1/2" | 10 N.m | 023018 | 1" | 10 N.m |
| | | | | | |
| --- | --- | --- | --- | --- | --- |
| Metric: | Size | Cap. | Model | Size | Cap. |
| 023019 | 3.2 | 10 N.m | 023031 | 14 | 10 N.m |
| 023020 | 4 | 10 N.m | 023032 | 15 | 10 N.m |
| 023021 | 5 | 10 N.m | 023033 | 16 | 10 N.m |
| 023022 | 5.5 | 10 N.m | 023034 | 17 | 10 N.m |
| 023023 | 6 | 10 N.m | 023035 | 18 | 10 N.m |
| 023024 | 7 | 10 N.m | 023036 | 19 | 10 N.m |
| 023025 | 8 | 10 N.m | 023037 | 20 | 10 N.m |
| 023026 | 9 | 10 N.m | 023038 | 21 | 10 N.m |
| 023027 | 10 | 10 N.m | 023039 | 22 | 10 N.m |
| 023028 | 11 | 10 N.m | 023040 | 23 | 10 N.m |
| 023029 | 12 | 10 N.m | 023041 | 24 | 10 N.m |
| 023030 | 13 | 10 N.m | 023042 | 25 | 10 N.m |
| | |
| --- | --- |
| Box End | |
| | | | | | |
| --- | --- | --- | --- | --- | --- |
| American: | Size | Cap. | Model | Size | Cap. |
| 023043 | 5/32" | 10 N.m | 023051 | 9/16" | 10 N.m |
| 023044 | 3/16" | 10 N.m | 023052 | 5/8" | 10 N.m |
| 023045 | 7/32" | 10 N.m | 023053 | 11/16" | 10 N.m |
| 023046 | 1/4" | 10 N.m | 023054 | 3/4" | 10 N.m |
| 023047 | 5/16" | 10 N.m | 023055 | 13/16" | 10 N.m |
| 023048 | 3/8" | 10 N.m | 023056 | 7/8" | 10 N.m |
| 023049 | 7/16" | 10 N.m | 023057 | 15/16" | 10 N.m |
| 023050 | 1/2" | 10 N.m | 023058 | 1" | 10 N.m |
| | | | | | |
| --- | --- | --- | --- | --- | --- |
| Metric: | Size | Cap. | Model | Size | Cap. |
| 023059 | 3.2 | 10 N.m | 023071 | 14 | 10 N.m |
| 023060 | 4 | 10 N.m | 023072 | 15 | 10 N.m |
| 023061 | 5 | 10 N.m | 023073 | 16 | 10 N.m |
| 023062 | 5.5 | 10 N.m | 023074 | 17 | 10 N.m |
| 023063 | 6 | 10 N.m | 023075 | 18 | 10 N.m |
| 023064 | 7 | 10 N.m | 023076 | 19 | 10 N.m |
| 023065 | 8 | 10 N.m | 023077 | 20 | 10 N.m |
| 023066 | 9 | 10 N.m | 023078 | 21 | 10 N.m |
| 023067 | 10 | 10 N.m | 023079 | 22 | 10 N.m |
| 023068 | 11 | 10 N.m | 023080 | 23 | 10 N.m |
| 023069 | 12 | 10 N.m | 023081 | 24 | 10 N.m |
| 023070 | 13 | 10 N.m | 023082 | 25 | 10 N.m |
| | |
| --- | --- |
| Flare End | |
| | | | | | |
| --- | --- | --- | --- | --- | --- |
| American: | Size | Cap. | Model | Size | Cap. |
| 023083 | 1/4" | 10 N.m | 023088 | 9/16" | 10 N.m |
| 023084 | 5/16" | 10 N.m | 023089 | 5/8" | 10 N.m |
| 023085 | 3/8" | 10 N.m | 023090 | 3/4" | 10 N.m |
| 023086 | 7/16" | 10 N.m | 023091 | 7/8" | 10 N.m |
| 023087 | 1/2" | 10 N.m | 023092 | 1" | 10 N.m |
| | | | | | |
| --- | --- | --- | --- | --- | --- |
| Metric: | Size | Cap. | Model | Size | Cap. |
| 023093 | 8 | 10 N.m | 023100 | 15 | 10 N.m |
| 023094 | 9 | 10 N.m | 023101 | 16 | 10 N.m |
| 023095 | 10 | 10 N.m | 023102 | 17 | 10 N.m |
| 023096 | 11 | 10 N.m | 023103 | 19 | 10 N.m |
| 023097 | 12 | 10 N.m | 023105 | 22 | 10 N.m |
| 023098 | 13 | 10 N.m | 023107 | 24 | 10 N.m |
| 023099 | 14 | 10 N.m | | | |
Hex Key
Ratchet End
Item #023000
Square Drive Size: 1/4"
Max. Torque Capacity 10 N.m
Ratchet End
Item #023000
Square Drive Size: 1/4"
Max. Torque Capacity 10 N.m
Blank End
Item #023002