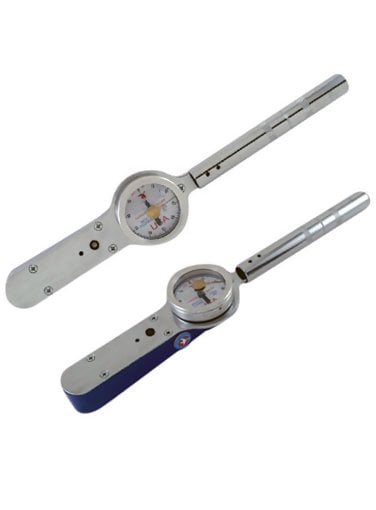 ---
Rigid Frame Dial Type Torque Wrench
---
Capacities from 600 in-lbs to 600 ft-lbs
---
1/4, 3/8, 1/2 or 3/4 Inch Drive
---
The Seekonk TS Series dial torque wrenches are designed for precision torque measurement and application. Built with chrome plated high alloy steel, TS series wrenches are rugged and durable. These tools feature a torsional bar system manufactured from a special molybdenum alloy steel that is electronically heat treated to exacting standards. Mated to these exclusive torsional elements are precision Swiss made dial indicators resulting in uncompromised accuracy, even after years of service. Seekonk TS Series dials are uncomplicated and simple to read thereby eliminating errors so common in other brands.
Standard accuracy is +/- 3% of indicated value
Conforms to Federal Specification GGG-W-00686C.
All tools are manufactured in the USA and are shipped with complementary NIST certs.
Seekonk TS-Series Dial Torque Wrench
Calibration Certificate
Made in the USA
Includes calibration certificate
Can provide Dual Scale English/Metric units as an option (Ft-lbs/N-m)
| | |
| --- | --- |
| Accuracy | 3% of indicated value |
| | | | | | |
| --- | --- | --- | --- | --- | --- |
| Model | Torque Range | Dial Grad. | Drive Size | Overall Length | Weight |
| TSQ-30 | 0 - 30 in-lbs | 0.5 in-lbs | 1/4" | 10.0" | 0.75 lbs |
| TSQ-75 | 0 - 75 in-lbs | 1 in-lbs | 1/4" | 10.0" | 0.75 lbs |
| TSQ-100 | 0 - 100 in-lbs | 2 in-lbs | 3/8" | 10.0" | 0.75 lbs |
| TSQ-150 | 0 - 150 in-lbs | 2.5 in-lbs | 3/8" | 10.0" | 0.75 lbs |
| TSQ-300 | 0 - 300 in-lbs | 5 in-lbs | 3/8" | 12.5" | 1.25 lbs |
| TSQ-600 | 0 - 600 in-lbs | 10 in-lbs | 3/8" | 12.5" | 1.25 lbs |
| TSF-25 | 0 - 25 ft-lbs | 0.5 ft-lbs | 3/8" | 12.5" | 1.25 lbs |
| TSF-50-3/8 | 0 - 50 ft-lbs | 1 ft-lbs | 3/8" | 12.5" | 1.25 lbs |
| TSF-50-1/2 | 0 - 50 ft-lbs | 1 ft-lbs | 1/2" | 12.5" | 1.25 lbs |
| TSF-100 | 0 - 100 ft-lbs | 2 ft-lbs | 1/2" | 18.5" | 2.50 lbs |
| TSF-150 | 0 - 150 ft-lbs | 5 ft-lbs | 1/2" | 18.5" | 2.50 lbs |
| TSF-175 | 0 - 175 ft-lbs | 5 ft-lbs | 1/2" | 18.5" | 2.50 lbs |
| TSF-200 | 0 - 200 ft-lbs | 5 ft-lbs | 1/2" | 18.5" | 2.50 lbs |
| TSF-250-1/2 | 0 - 250 ft-lbs | 5 ft-lbs | 1/2" | 21.0" | 2.50 lbs |
| TSF-250-3/4 | 0 - 250 ft-lbs | 5 ft-lbs | 3/4" | 23.0" | 6.50 lbs |
| TSF-300 | 0 - 300 ft-lbs | 10 ft-lbs | 3/4" | 30.0" | 6.50 lbs |
| TSF-350 | 0 - 350 ft-lbs | 10 ft-lbs | 3/4" | 30.0" | 6.50 lbs |
| TSF-420 | 0 - 420 ft-lbs | 10 ft-lbs | 3/4" | 40.0" | 9.00 lbs |
| TSF-600 | 0 - 600 ft-lbs | 20 ft-lbs | 3/4" | 40.0" | 9.00 lbs |
NOTE: INLINE RATCHET available on TSF-250-3/4, TSF-300, TSF-350, TSF-420 and, TSF-600